Proper operation and interpretation of airborne weather avoidance radar is dependent on pilots having a full understanding of its capabilities and limits. Factors such as radar attenuation (de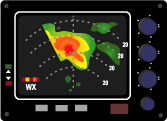 flection or absorption of the radar beam by precipitation or solid objects like terrain), and use of the radar's tilt and gain controls, may affect the accuracy of radar returns.
Even when none of these factors seem to be involved, pilots can still be surprised by adverse weather that is not accurately depicted on their weather radar, including severe turbulence, lightning strikes, inflight icing, and even microburst activity. More from a recent ASRS report:
Our flight encountered an area of unforecast extreme turbulence. The area was encountered while descending through FL210... Flight conditions were IMC with continuous light chop. Weather radar was operating and displayed no returns. The tilt and gain settings were set properly for the conditions. Due to advisories from Center of possible moderate turbulence, we had elected to activate the continuous ignition.
The onset of the turbulence was rapid and immediate. The Pilot Flying (Captain) immediately retarded the throttles to idle thrust and disengaged the autopilot. He was able to prevent the plane from rolling to an inverted attitude, but the descent rate or the altitude was impossible to maintain. The aircraft began climbing at a moderate rate. About 5-10 seconds into the encounter, we received simultaneous left and right engine oil pressure warning messages. I shifted my focus to the engine instruments and noticed the engines were maintaining idle thrust. No other abnormal engine indications were present. We escaped the area of extreme turbulence and readily notified ATC. No Flight Attendants or passengers were on board, as this was a ferry flight. There was no way to predict or avoid the stated conditions.
This crew did what they were trained to do - fly attitude. Many air carriers require that flight crews maintain established distances from weather radar echoes according to the color of the radar return. This policy lessens the risk of adverse weather encounters, including hail thrown into clear air by thunderstorm "overhangs."
Onboard weather radar equipment itself may be hazardous, as described in this Captain's unusual report to ASRS:
After pushback and engine start, we noticed that our primary flight displays indicated 'Wx On,' and the radar display indicated 'Predictive Windshear On.' This indicated that the predicted windshear system was active and the weather radar was on, looking for windshear and irradiating the pushback crew. I pulled the weather radar circuit breaker and investigated. Our pilot's reference manual says the predictive windshear system is on when both engines are running and the transponder is on. In this case the transponder was set to 'Alt Off.' This switch position is one click from 'Standby,' which is where the switch should have been. The inbound crew must have left it in 'Alt Off' and we did not notice, despite a thorough preflight check. The switch is small and has 6 positions, making it easy to mis-set...

There needs to be a warning in our normal procedures that says, "Warning, if the transponder is on and both engines are running, the weather radar is on." There needs to be a bulletin issued to insure that every crew member understands that the transponder switch is very important and if left in the wrong position, can hurt people...
Prolonged exposure to weather radar radiation may cause injury to ground personnel and damage to ground equipment in close proximity. An aircraft's radar receiver may also be damaged as the result of strong returns from nearby metallic objects such as other airplanes. The design of the transponder switch and the crew's faulty performance of the checklist were also factors in this incident.