We held a kite flying party at our farm. At one point we had probably a dozen kites flying, some at altitudes of 500 feet, perhaps even more. One kite in particular was notable because it is 4 feet by 5 feet and is normally flown on a 250# dacron line. Although this kite is legal under FAR Part 101, I'd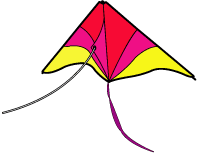 hate to be the one to run in to it in any aircraft. At the time of the incident, this kite was flying at perhaps 350 feet AGL. With very little warning, a state police helicopter made a very low, high-speed pass over the field. As an instrument rated pilot myself, I'd say his altitude was less than 200 feet AGL. He must have seen it because after flying right past the kite, he suddenly reversed course and carefully circled the field. The pilot of this helicopter is fortunate. I was unable to read his tail number due to his high speed...
While it's true the helicopter pilot bears the brunt of responsibility for this incident, I am not blameless either. I know that state helicopters often land behind...the elementary school to the east of my farm. I also am aware of extensive training activity from 500 feet AGL and up. As if that weren't enough, there is extensive ultralight activity in my area too. Part 101 does say that we, as kite fliers, should not present a hazard to other aviation activities. In that light, I intend to discuss this issue with my local FSS to see if they can put out a NOTAM concerning our activity...