---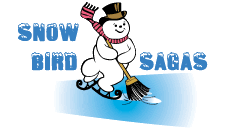 "The weather outside is frightful," begins a popular holiday song. A general aviation pilot who experienced frightful winter weather tells an unusual story of how his aircraft became a grounded "snow bird":
I was flying...at 7000 feet on an IFR flight plan. The weather at destination was MVFR and forecast to deteriorate. I was concerned that I might finish my flight with an insufficient fuel reserve. I therefore resolved to make a precautionary landing at [airport XYZ] to rest, refuel, and get a detailed update to my weather briefing. I selected XYZ because it was the nearest airport with an IFR approach, and...the next sizable airport on my route was too far away and had worse weather than XYZ.

On receiving my request, Center immediately cleared me for a VFR approach to XYZ. I was unable to locate the airport and requested and received vectors to the ILS approach to Runway 06. The approach was bumpy, but I could see the approach lights from 4000 feet. I could not make out the runway lights, and assumed they must be dim and the pilot-controlled lighting inoperative. I was unable to increase their brightness using pilot-controlled lighting but the pilot-controlled lighting, of course, did affect the approach lights. I could see the plowed runway clearly in contrast to the snow-covered airfield, and the landing on Runway 06 was straightforward.

I then discovered that, although the runway had been plowed, the turnoff to the taxiway had not, and I had no way to exit the runway. I was unable to contact Center by radio from the airfield and decided to walk to the FBO and contact Flight Service from there by telephone. Before calling, I hoped to have resolved the problem of moving my airplane from the runway. I discovered the FBO was unattended and locked. Furthermore, the public telephone outside it was frozen and not working. I then returned to my airplane, contacted FSS by radio and informed them of my position. The State Police were called, a snowplow summoned, and I was able to resume my flight the following morning...

I realize that my flight planning was inadequate. If I had...[identified] XYZ as a possible alternative landing site, Flight Service would have told me it was closed by NOTAM and I could have found a suitable alternative... While I now fully appreciate it is not their responsibility to do so, it was unexpected that ATC would clear me twice to the approach of a closed airfield.
Our reporter correctly outlines his own responsibility to properly plan and execute his flight. He apparently didn't realize that a Center controller may not be aware of a local airport's operational status unless it affects the Center's operations.